Tri Robo Cup 2020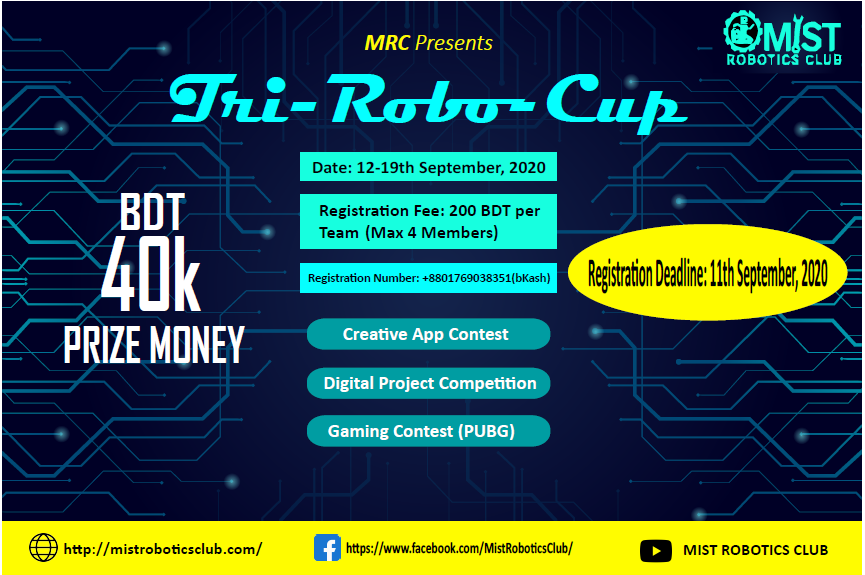 MIST Robotics club in conjunction to department of EECE is proud to present "TRI-Robo-Cup". Considering the current situation and circumstance, we have planned and organized this competition. All the events in this competition will be digitally executed. So that the participants can compete in this program in the safety of their home and test their skills.
The total prize money of the event is 40,000/-
The events will test three pillars of robotics Hardware, Software & Control. Hence the name Tri Robo Cup. The competition will be held from 12th September 2020 to 19th September 2020. The events are the following:
Digital project competition (Hardware)
Creative APP Contest (Software)
PUBG Gamming Contest (Control)
Prizes for Digital project competition and Creative APP Contest
Champion: 7,000/-
1st Runners Up: 5,000/-
2nd Runners Up: 3,000/-
Prizes for PUBG Gamming Contest
Champion: 5,000/-
1st Runners Up: 3,000/-
2nd Runners Up: 2,000/-
The Registration fee for all the events is 200/- per team. Each team can consist of maximum of 4 members. Registration can be done through Bkash (+8801769038351) and the deadline is 11th Sepetmber 2020. The prize money will be sent through bkash to the number of the winning teams.