Sustainable Energy Contest - 2021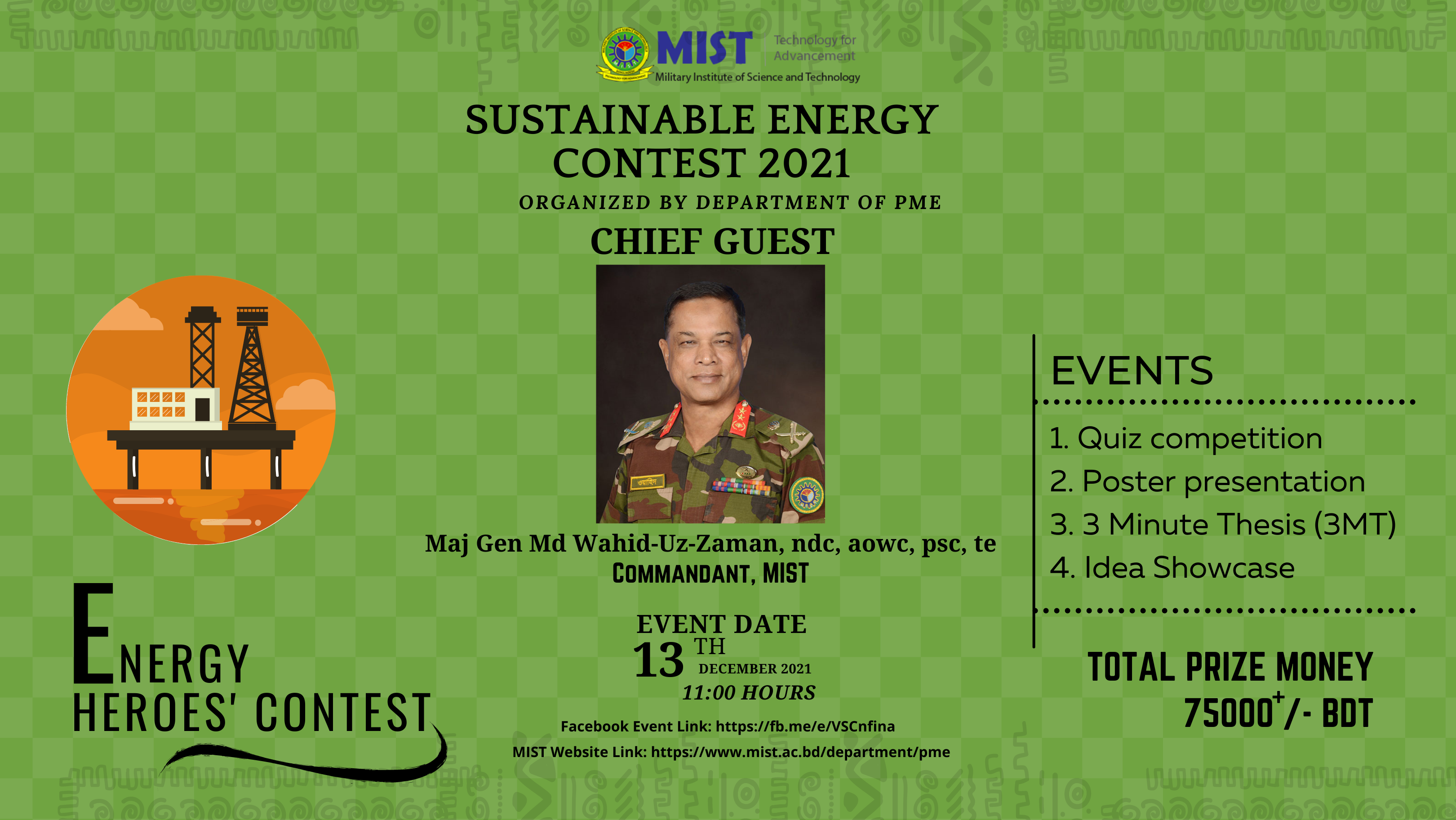 Sustainable Energy Contest-2021 is organized for the very first time by the Department of Petroleum and Mining Engineering (PME) of Military Institute of Science and Technology (MIST). In a time of pandemic to avoid any possible health issues and to ensure safety the "Sustainable Energy Contest 2021" is going to be conducted on the digital platform. The event will be held on 13 December 2021 at 1100 hrs. Only the students of the PME Department from all universities (MIST, CUET, SUST & JUST) are eligible to participate in this event.
This year the event consists of:
1. Quiz Competition
2. Poster Presentation
3. 3 Minute Thesis (3MT)
4. Innovative Idea Showcasing (IIS)
Hurry up and get yourself registered!
Facebook Event LINK for details and Registration: https://fb.me/e/VSCnfina
Total prize money for the event is 75,000/-
Prize money for Quiz Competition:
1st Position: 5,000/-
2nd Position: 3,000/-
3rd Position: 2,000/-
Prize money for Poster Presentation Contest:
1st Position: 10,000/-
2nd Position: 8,000/-
3rd Position: 5,000/-
Prize money for 3MT:
1st Position: 10,000/-
2nd Position: 8,000/-
3rd Position: 5,000/-
Prize money for IIS:
1st Position: 10,000/-
2nd Position: 8,000/-
3rd Position: 5,000/-