Research & Development
Introduction:
Military Institute of Science and Technology (MIST) is one of the leading and prestigious technical institutions of Bangladesh. It is purely a government educational institution focusing only engineering education and research. MIST started its journey since 19 April 1998. MIST is located on the northwest part of Dhaka City at Mirpur Cantonment. Which is well known as the ''Education Village'' of Bangladesh Armed Forces.
As an institution, MIST is already on steady stride upholding its motto 'Technology for Advancement' and remains committed in contributing to the wider spectrum of national educational arena. It plays a significant role in the development of human resources and gradually pursuing its goal to grow into a 'Centre of Excellence'. Beside the technical education, MIST also kept the provision for research and development.
From the academic perspective, Research is 'the systematic investigation into and study of materials, sources, etc. in order to establish facts and reach new conclusions' (Concise Oxford Dictionary). On the other hand, Development means the innovative and creative adaptation of information and knowledge for a new purpose, thereby creating new information. In the organogram of MIST, the R&D Wing is entrusted with the task of supporting the Academic Wing that conducts not only basic and applied research but also development activities.
Vision:
To promote and coordinate research, extension and development services of the various departments and faculties including testing and consultation.
Mission:
To publish various periodicals, maintain MIST archives, and arrange research-oriented seminars/meetings within/outside MIST.
Capabilities:
• To promote research and development services including testing and consultation.
• To make relations with outside agencies on matters of research and development.
• To provide budget and accounts for research, testing and consultation.
• To compose and publish research reports, bulletins, periodicals, journals, newsletter, diary, calendar, prospectus, brochure etc.
• To supervise and control the central workshop of MIST and the central library.
• To supervise and control the affairs of Reproduction and Printing Division of MIST.
Divisions in R & D Wing:
a. Archive, Research, Standardization, Testing & Consultancy (ARSTC) Cell
b. Publication & Reproduction (P&R) Cell
c. Photo & ID Cell
d. Central Library
e. Research Division
Responsibilities:
The prime responsibilities of R&D Wing are as follows:
a. To make provisions for advisory, research and consultancy service including supervision, material testing, etc.
b. To carry out research on theoretical as well as physical development.
c. To prepare the budget and accounts of research extension and development services.
d. To publish Journals, Brochure, Prospectus, Newsletters, Research Reports, Bulletin etc.
e. To supervise and control the activities of the central library.
f. To maintain 'Digest of Service' that includes all important events arranged/ conducted by MIST.
g. To prepare and print the Photo ID Cards.
h. To arrange media, press and photo coverage.
i. To arrange Project Fair, Cultural & Athletics Competition within the departments of MIST and secretarial duty of MIST Photography Society.
Charter of Duties:
Main jobs of R&D wing is to carryout research & consultation service including supervision, materials testing and to enter into suitable agreement. This wing to publish research reports, bulletins, journals, newsletters etc. An archive is established at MIST under the guidance of R&D Wing. That preserves the following:
a. Policies
b. Syllabuses of Different Courses
c. Charter of Duties
d. TO & E (MIST)
e. Visitor's Folders
f. List of Pioneer Officer
g. Digest of Services
h. Photo Album
j. Working Paper on Different Meeting
k. Banners of Different Meeting
l. Initial correspondence of MIST
m. Research working papers of different Depts/Divisions
Ongoing Research Work (Army Projects):
a. To Develop an Internet-Based Secure Communication System in Bangladesh.
b. LASER Gun for Recruit Firing/Firing Simulator
c. Development of Jammer System
d. Firing Result Automation System
e. Pop Up Target System
f. Advance Battlefield Communication System
g. Smart Street Light Control
h. Design and Fabrication of a Target AC
Central Library:
Central library was established in 1999, in order to fulfill the academic and research needs of the faculty, researchers, scholars, students and staff officers. It provides the wide area knowledge with the balanced resources in the fields of science & technology. It is an open library system to students of MIST, which provides rich collections of e-resources, books, including journals, newsletter, thesis works and CDs. Students can borrow unlimited textbook from the library for 6 months and 5 other reference books for 30 days. At present, the library has more than 62,000 books, 90,000 online Journals, 1,400 CDs, 1,300 thesis paper and 215 repository items, about having a reading room sitting capacity of more than 120. The book stock is arrange in a classified sequence based on the Dewey Decimal systems (DDC). The majority of volumes in the library are kept on open shelves. MIST Central Library has "Integrated Library System" using by open source software Koha, Dspace, VuFind and Drupal; (www.library.mist.ac.bd). The library has well equipped cyber center through which the students get the window of search for the e-resource.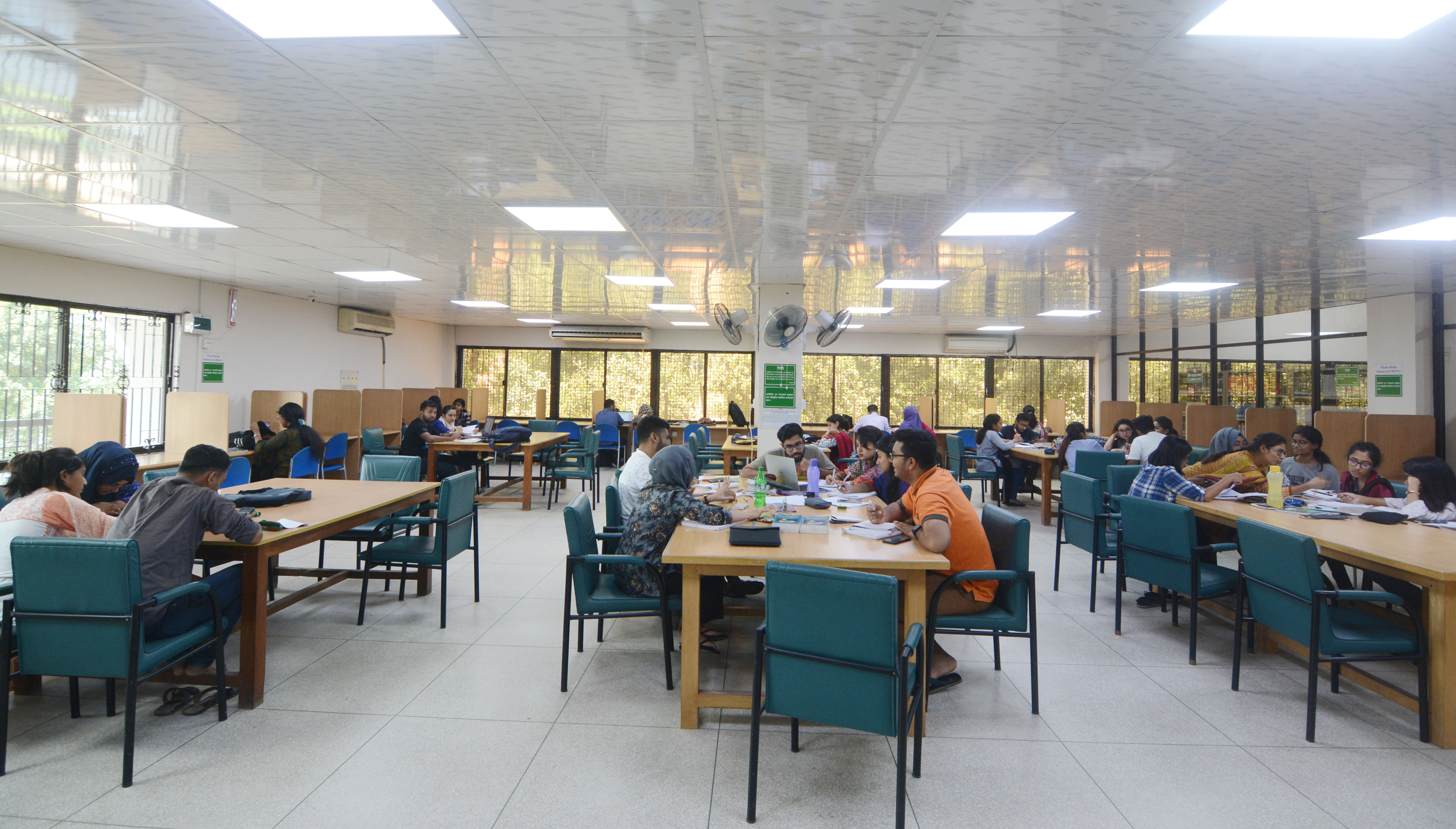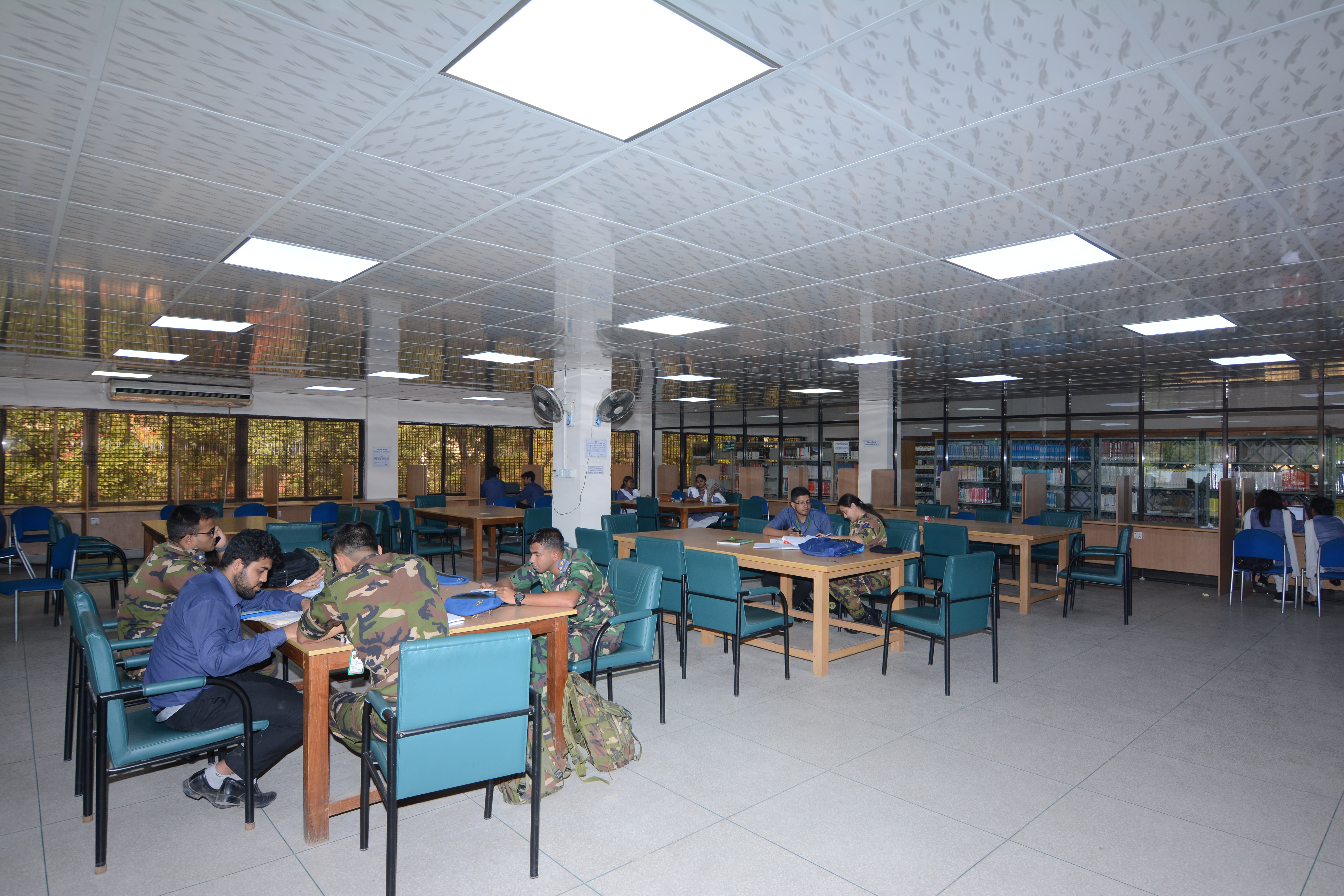 Library Services:
The central library is providing the following services:
• Circulation Service- Book Issue Facilities for Long (6 month) & Short (1 month) Term Basis.
• Reading Facilities.
• Web OPAC (Online Public Access Catalogue) Facilities.
• E-Resources Access Facility through Bangladesh INASP-PERI Consortium, UGC Digital Library and Bangladesh Online Journal.
• Current Awareness Services of newly acquired book and other resources.
• Reference / Information Services.
• Email & SMS Alert Services.
• Audio-Visual Material Issue Facilities.
• Photocopy Services.
• Browsing & printing facilities through Cyber Centre.
• Wi-Fi Services.
• Reading facilities of Thesis paper, Journal, Magazine and Newspaper.
• Plagiarism Checking Facilities.
Library Timing:
| | | |
| --- | --- | --- |
| Ser | Day | Time |
| 1 | Sunday-Thursday | 0800 hrs-2200 hrs |
| 2 | Saturday | 1700 hrs-2200 hrs |
Note:
1. During preparatory leave and examination time, library remains open 7 days of the week from 0800 hrs-2200 hrs.
2. Closed on Friday & Government holidays.
MIST Journal
MIST Journal 2009

MIST Journal 2010

MIST Journal 2011

MIST Journal 2012

MIST Journal 2013

MIST Journal 2014

MIST Journal 2015

MIST Journal 2016

MIST Journal 2017

MIST Journal 2018

MIST Journal 2019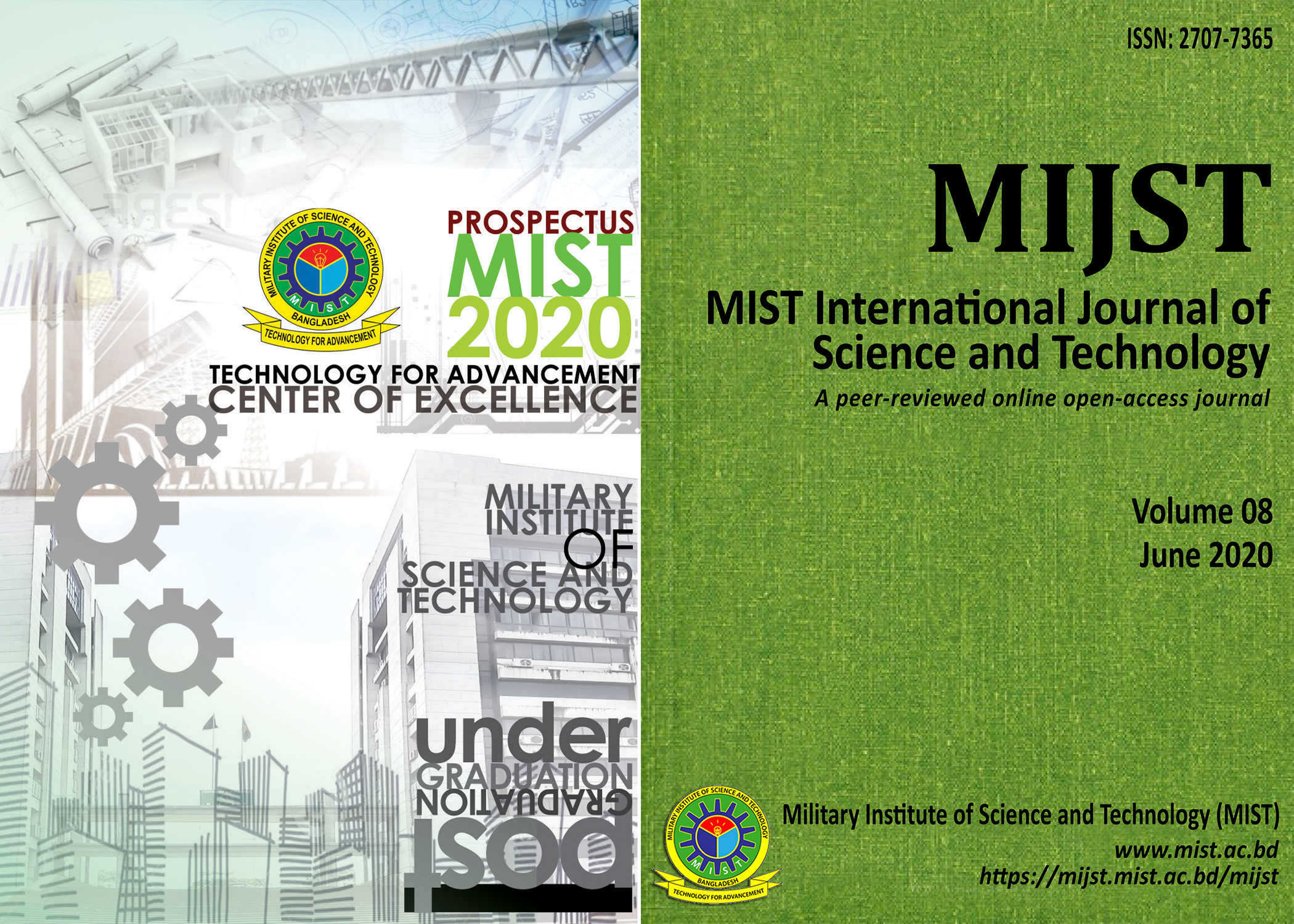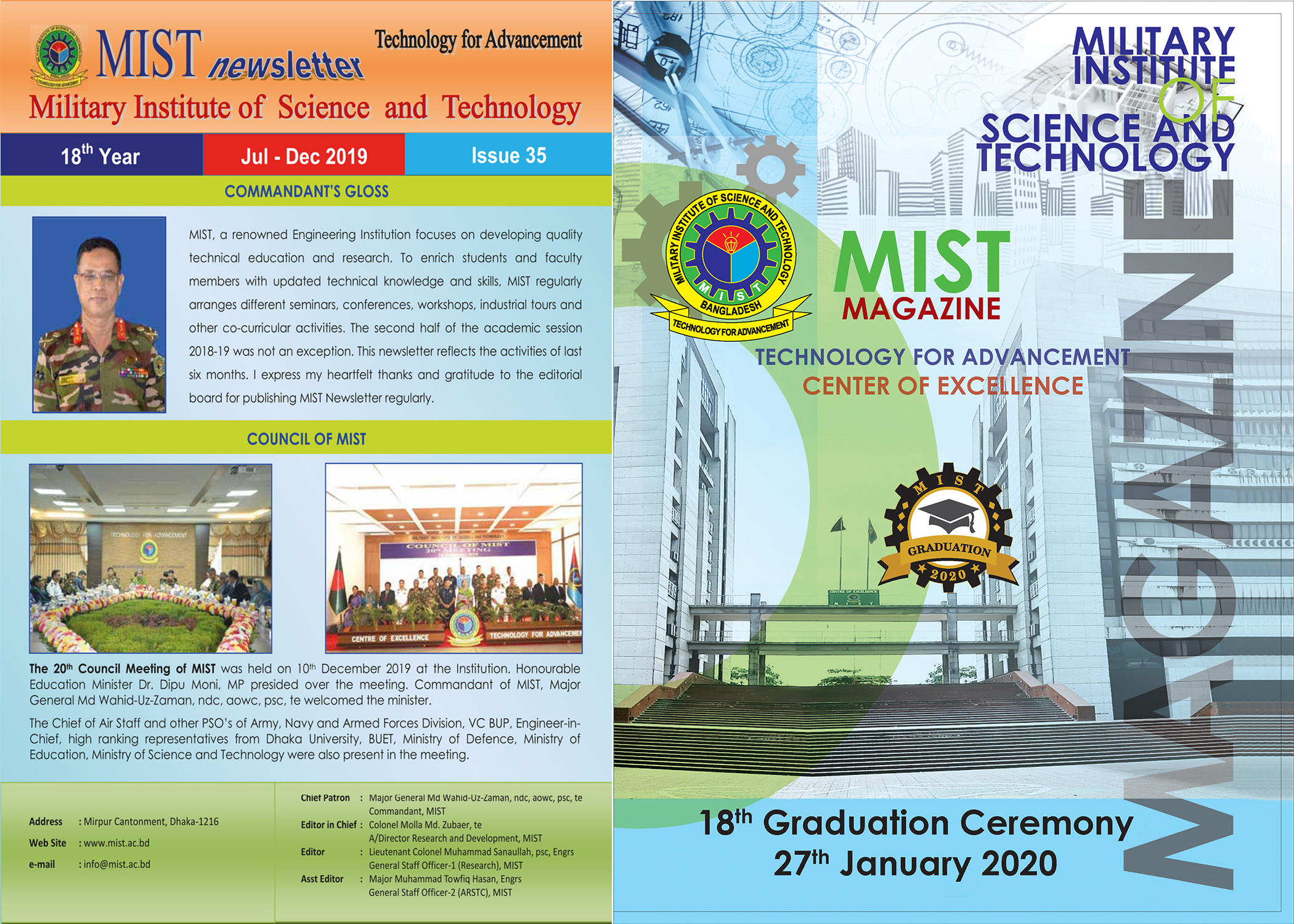 International Network for the Availability of Scientific Publication (INASP)
Ser

Name of Publisher

Remarks

1.

American Astronomical Society

2.

American Physical Society

3.

American Society of Agricultural & Biological Engineers (ASABE)

4.

American Concrete Institute (ACI)

5.

American Society of Civil Engineers (ASCE)

6.

Annual Reviews

7.

British Institute of Radiography

8.

Brill

9.

Cambridge University Press (CUP)

10.

Canadian Science Publishing (was NRC Press)

11.

Cochranc Library (Web)

12.

De Gruyter Online Journals (inc LIS)

13.

EBSCO Host including CMMC

14.

Edinburgh University Press

15.

Geological Society

16.

Mary Ann Liebert

17.

Project MUSE books 2017 Complete

Collection (17,048++ titles tbc)

18.

SPIE Digital Library

19.

Springer All Plus 2097 titles

20.

Wiley Online Library full collection (1,360 titles)

21.

Indian Online Journals

22.

International Forestry Review

23.

International Monetary Fund

24.

Optical Society of America (OSA)

25.

Policy Press

26.

Royal College of Physicians

27.

Royal Society

28.

De Gruyter LIS books collection

29.

Nature ALL Plus (78 titles)

30.

NPG - Palgrave Macmillan Journals

31.

IEEE Xplore Digital Library
MIST, as an institution, will be distinguished from other organizations, by the quality of its research and by the way in which its outcome is informed to the stakeholders. R&D wing will remain always prepared to work hard in order to develop a research culture that encourages and rewards excellence in research, innovation and development, builds research capacity, generate resources and sharpening technical knowledge that enhances academic activities, leading MIST towards the realization of its Vision and Mission in future.
Staff and Employee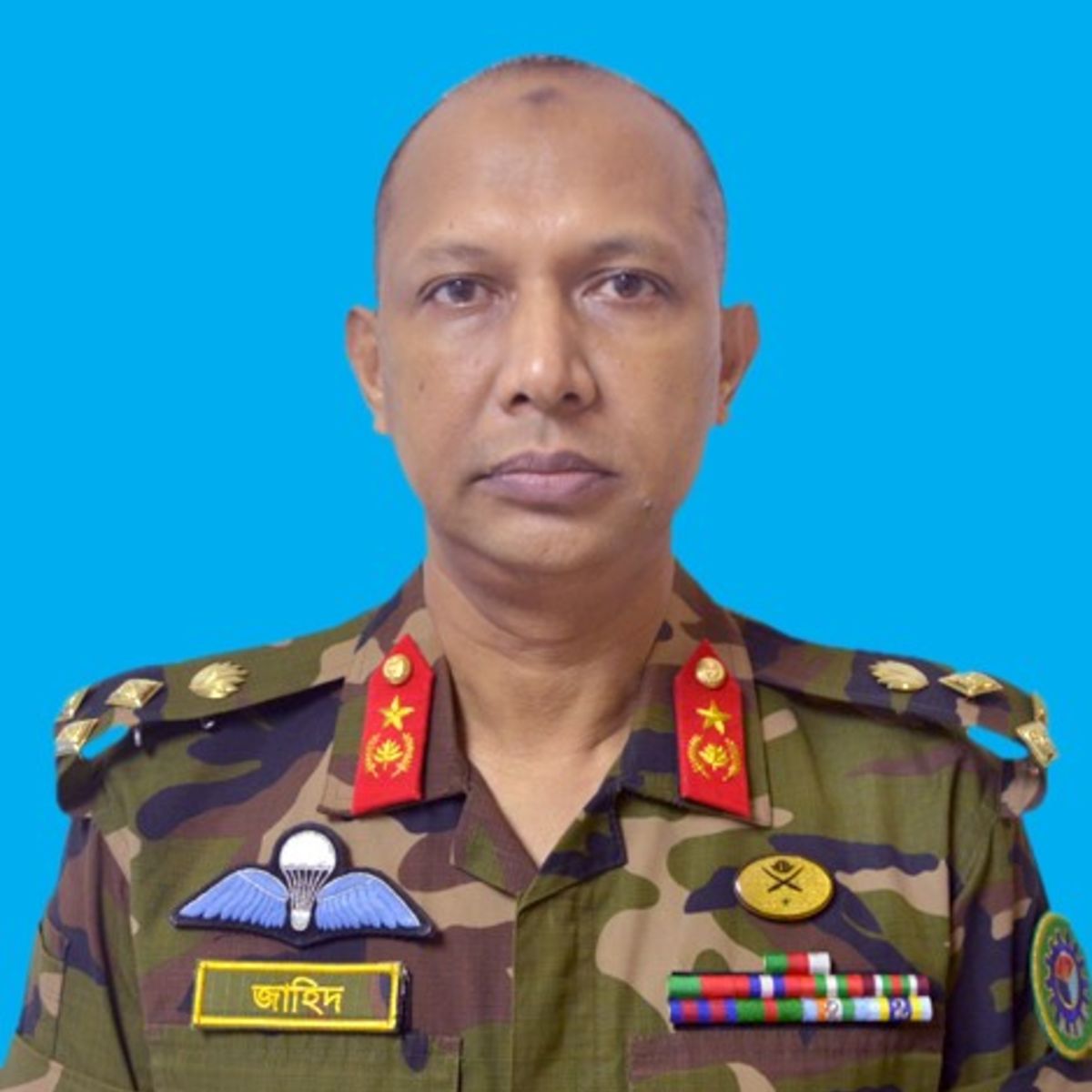 Brig Gen Md Zahid Hossain, psc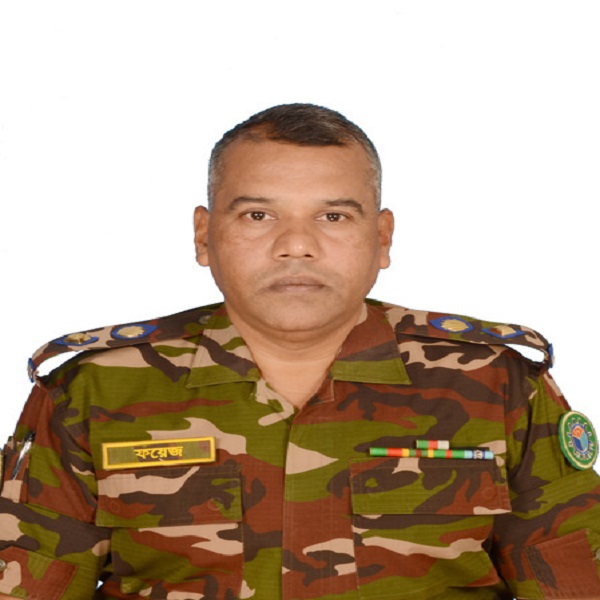 Lt Col Md Faizul Kabir, psc, Engrs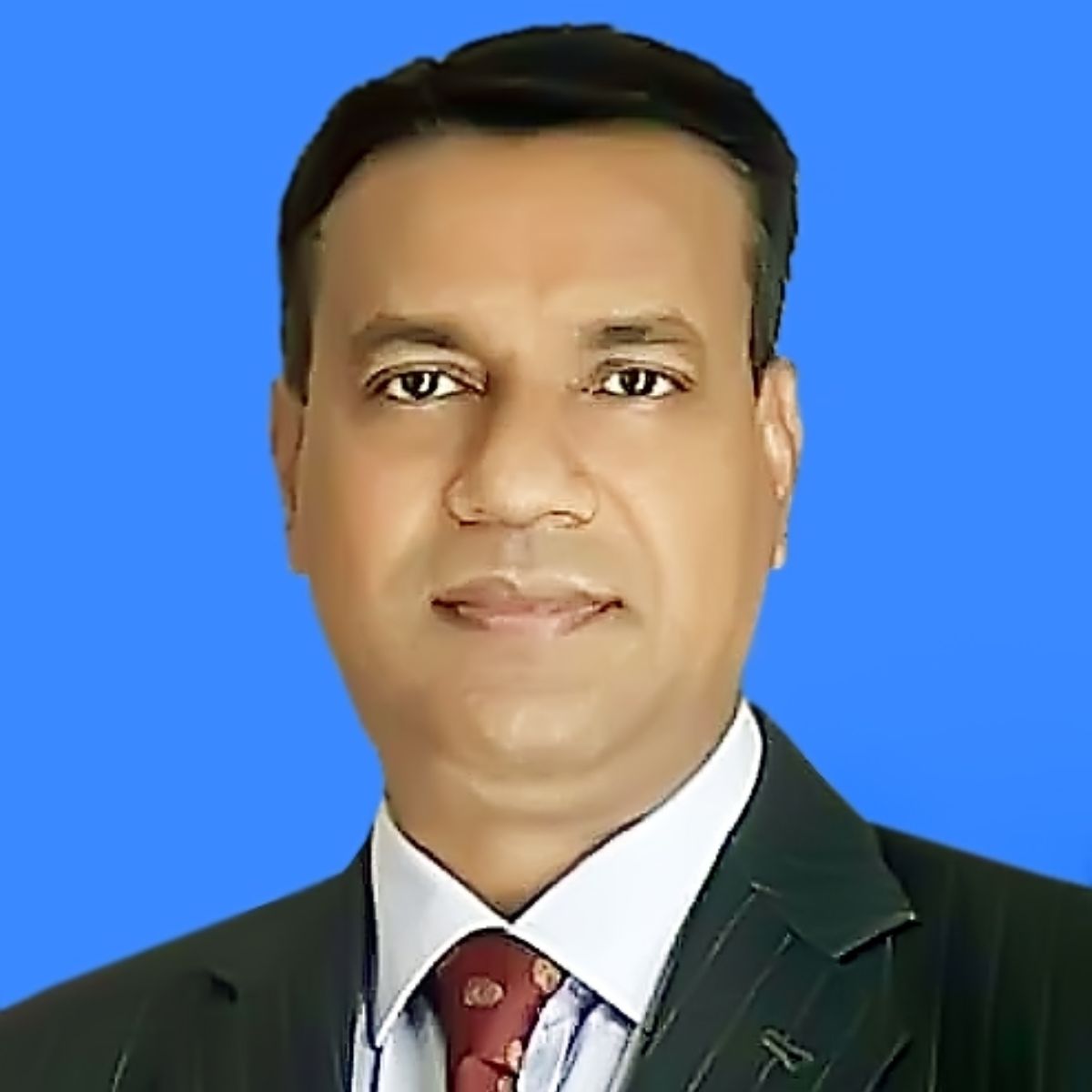 Md. Moslem Uddin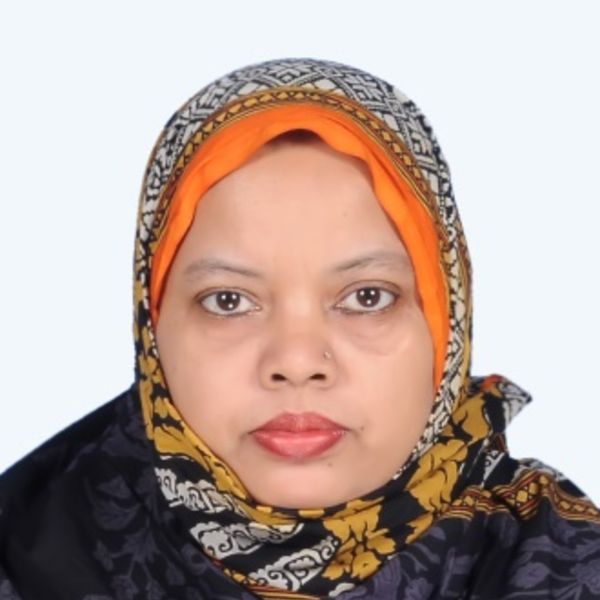 MST. Nusrat Sultana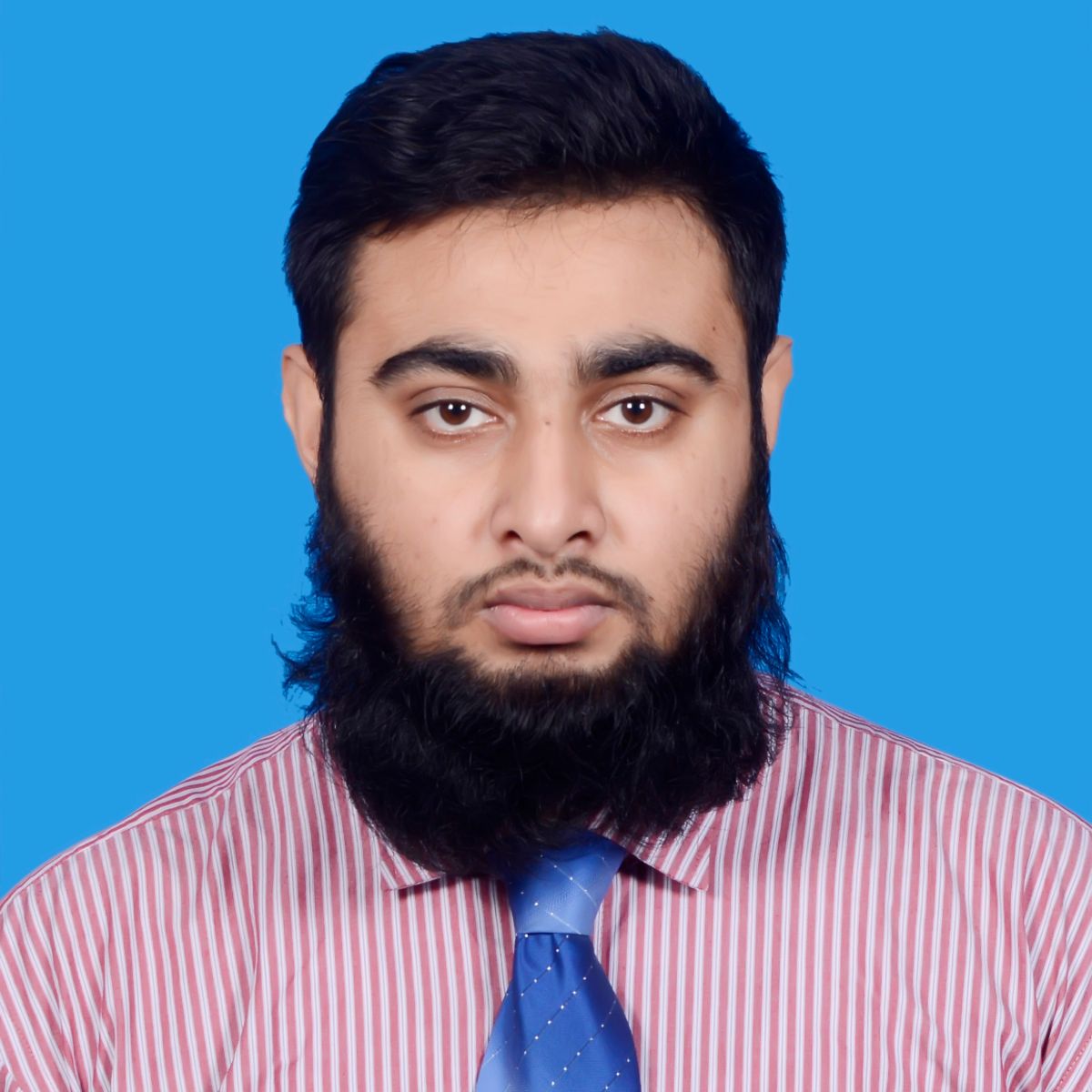 Md. Ariful Islam